Curacao, my first holiday with Claudy, my ex-girlfriend and wife (married on the 12 th of june 2006). We stayed at Plaza Hotel (Van der Valk). Things we've done: Visit small Curacao by boat trip (http://www.mermaidboattrips.com) of 2 hours. The sea was quite rough so some people got sick. Island tour: go to blue Curacao factory, ostrich farm, Jaantjes speaking menu card restaurant, iguana farm (also ate it) and Northern coast. Sea museum/harbour in Willemstad. Party bus tour: go around Willemstad in a party bus visit pubs and disco. Plasa Bieu, nice and cheap local food. Jetski-ing and BBQ on a boat on the sea. And of course laying on the beach and snorkling. Picture on the left Plaza Hotel. Pictures below sunset, lighthouse on small Curacao and Plasa Bieu.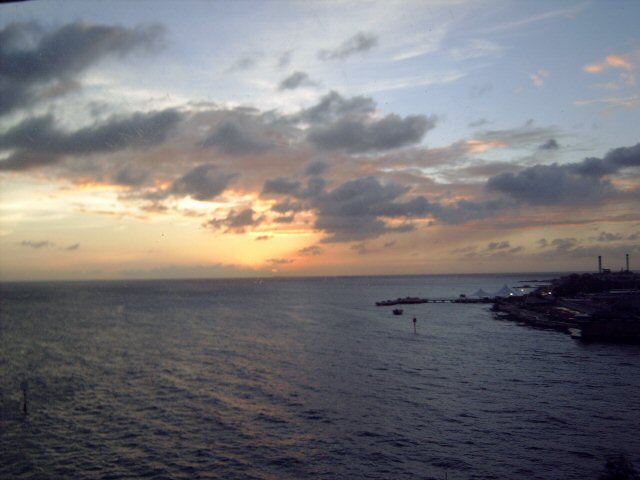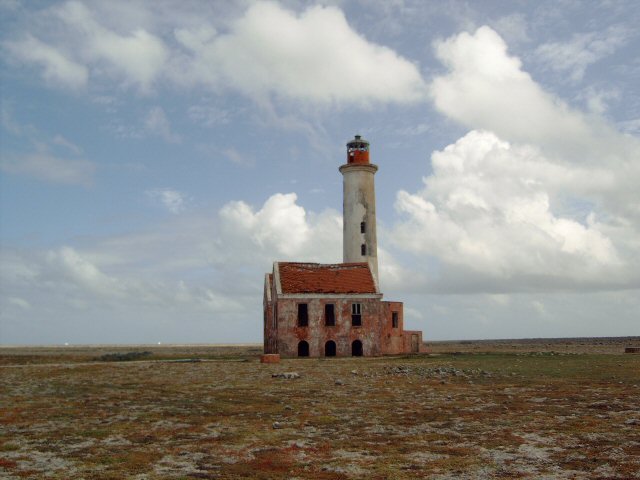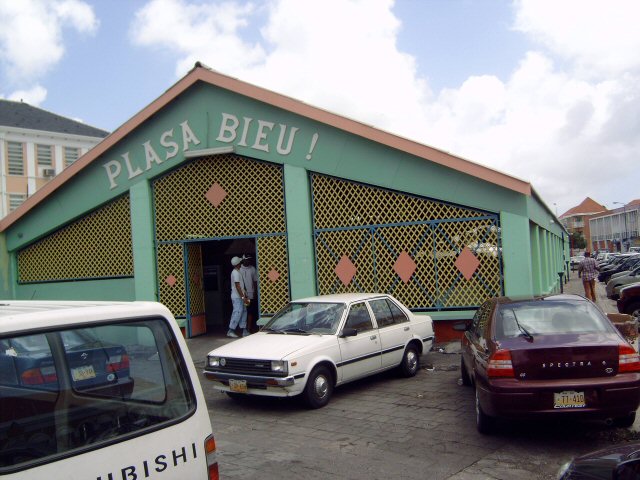 ---
Egypt Oktober 2004: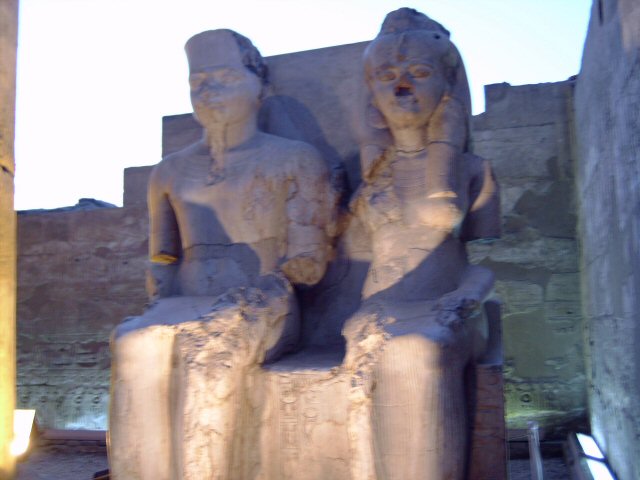 In Egypt we did a boat tour over the Nile river from Luxor to Aswan and back. We visit al the famous statues and buildings. In Hurghada we stayed in Hilton Hotel which was very nice, with good food and nice things to do. I even got a Henna tattoo on my shoulder... I did some diving. We did a horse ride to the beach, a quad tour into the desert with a sunset watch. Next to this laying on the beach, eating and snorkling. On one snorkling trip Claudy's mobile was lost eg stolen by a camera man. The police in Hurghada wasn't cooperative to give us a declaration, we waited for 2 hours, came back in the evening again wait for 2 hours then we left without saying a thing. Don't think we'll ever go back because of the people who really want to sell all kind of things and the push you very hard to buy it. Picture on the left is of one of the statues.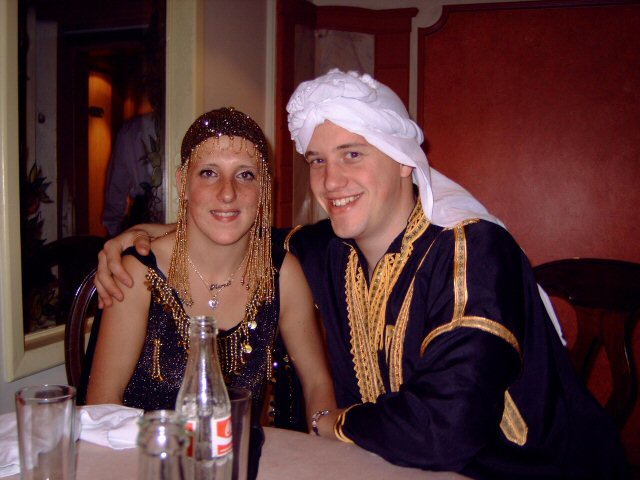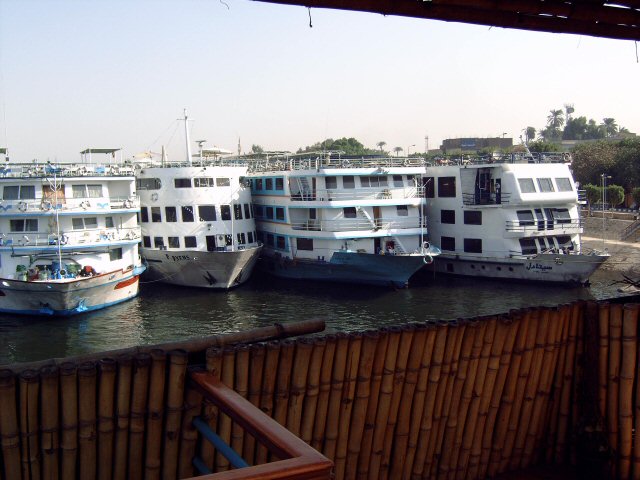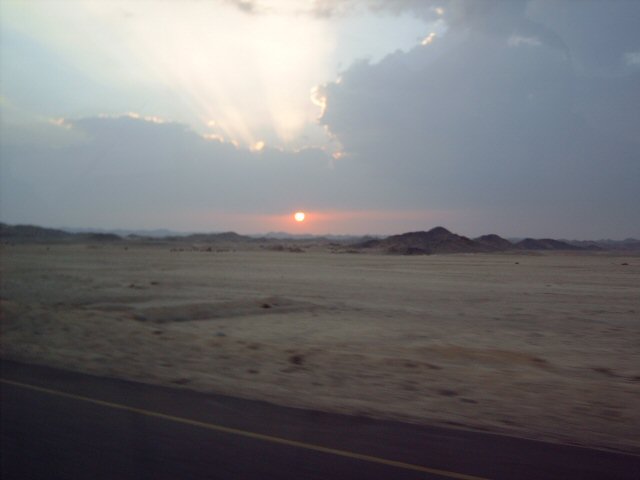 Pictures above are of the dress up for Egyptian Party on the boat. The boats laying to the shore to let people visit things. Sunset in the desert when travelling from Luxor to Hurghada, when we travelled in a group of cars and busses with police in front and the back it even started raining in the desert. Last time this happended was 4/5 years ago.
---
Mexico Oktober 2005:
Everything was nice until Wilma arrived, we arrived on friday at RIU Tequila, monday was when we went to Cozumel, island in front of Cancun/Playa del Carmen. We still saw leftovers of the last huricane/storm. Trees were fallen, we rented a scooter to go around the island. The western road was closed due the previous storm. Tuesday the news arrived the Wilma would go over Playa del Carmen.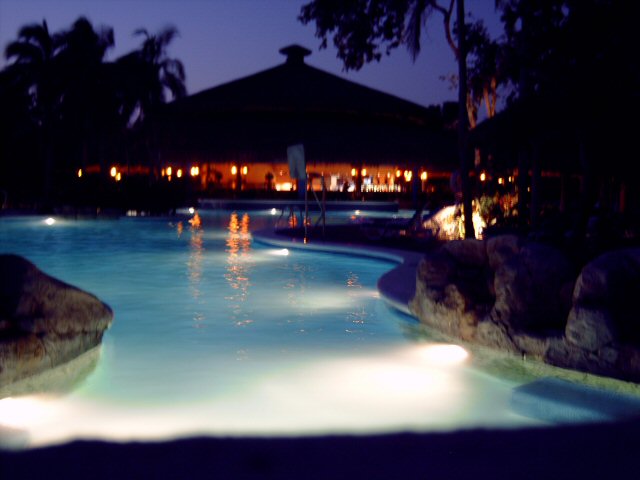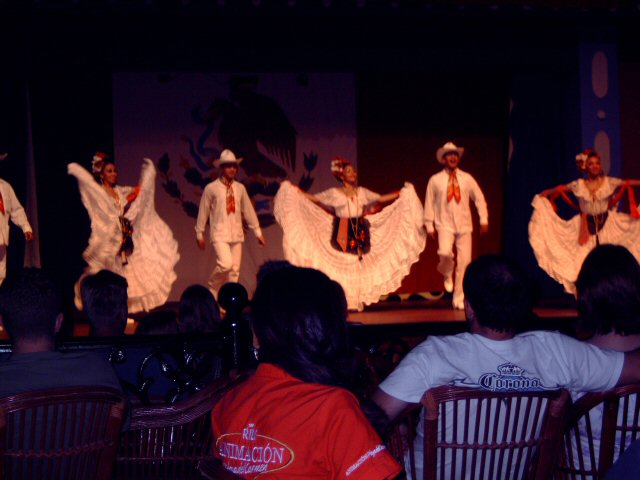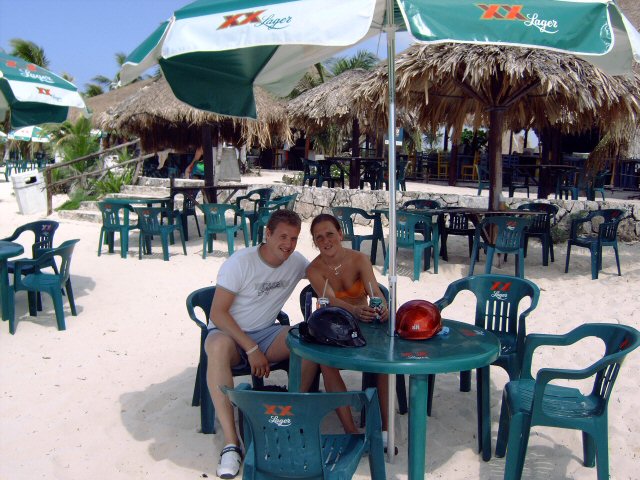 Tuesday and wednesday the local people already started to get their windows closed by wooden plates, see picture below. The sea was becoming rougher. On thursday during the day the entertainment people of Rui Tequila played al kind of games and music, it almost looked like the Titanic. In the evening we already had to stay in because of the bad weather and we got some food in our room. On friday the power got out. Also the hallway to our room was becoming wet of the ammount of rain that was blown into. Hurricane was becoming more and more active (be carefull 6.2 MBytes). At 0:00 we got some food. Saturday around 14:00 we went to the front desk, a lot of damage was done. On sunday at 14:00 we got the save signal so everybody went out. It was still windy. Sunday afternoon we helped around the hotel to clean up some things and clear the paths. On monday we went to the beach to get some rest and sun. On Tuesday morning we went to Merida airport to get evacuated and go back to Brussel's airport Zaventem.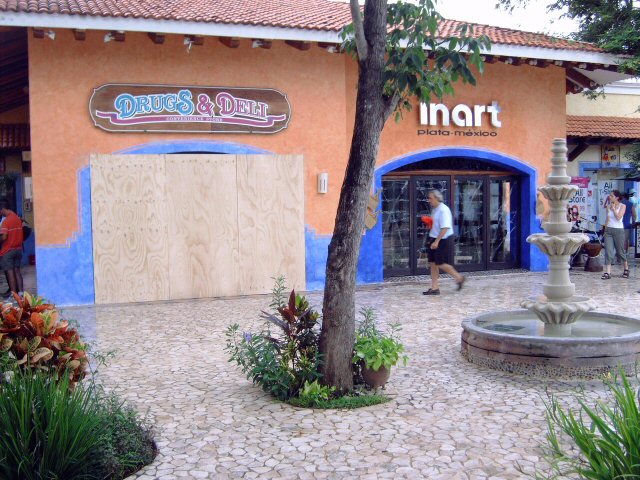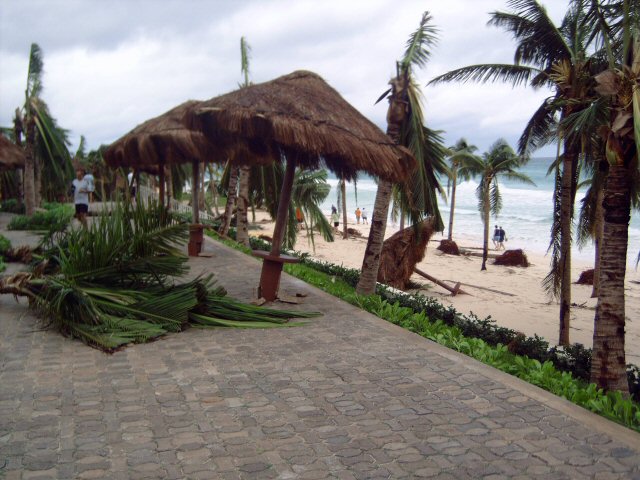 Because of the early leave we got some compensation, 300 euro. And a free flight coupon to be spend at TUI flights outside of Europe.
---
The 2nd time Curacao was our marriage, we left 6th of june, merried on the 12th of June 2006. See Trouwen.
See www.bankasa.com, we merried on Hook's Hut.
---
Vielsalm Oktober 2007:
On 10th oktober 2007 we went to Vielsalm, south of Belgium. It was quite bad weather, rain and even snow in the end of our 5 day stay. We should have better gone to a Centre parks park then the Sunparks park. You pay big $$$ get less. THere were some wild cats, if you feed them to would get close to you, one even came inside to heat up a bit.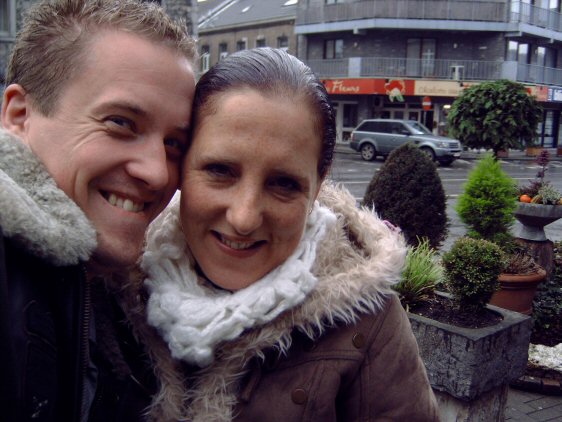 We als drove around the area a bit, nice hills, enough to see and do but not during the low season. Cheap petrol could be bought in Luxembourg.
---
Chersonissos, Krete April 2008:
On 20th of April 2008 we went to Chersonissos, Kreta, Greece. Normally this is a very busy place in summer, almost a Dutch kolonie. Now it was quiet. The flight was with www.transavia.com, it was a cheap flight, you had to buy your drinks/food onboard the aircraft. In Chersonissos it self we went to hotel Creta Maris, a good hotel, not to many English... On monday we met another couple, they were on Honeymoon, with Sander and Maartje we rented a car to go to Chania and Rethymnon. Rethymnon was a very nice place to go to.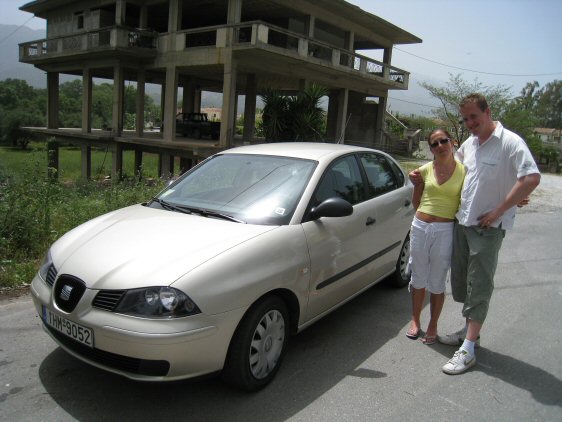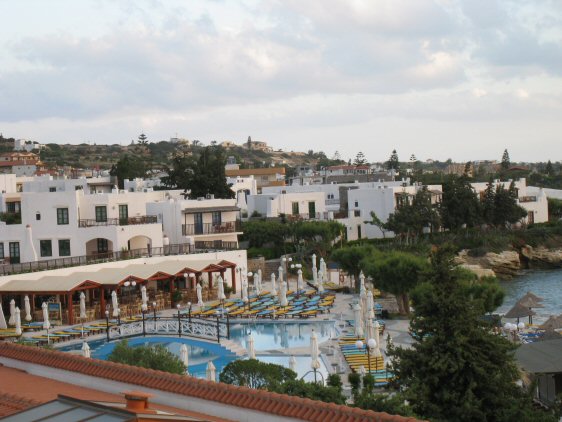 On Wednesday we went to Knossos and Heraklion with a bus tour. See picture below.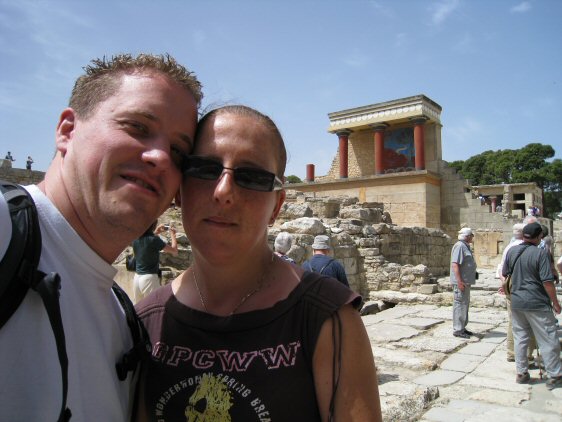 On Friday we went on a jeep safari into the mountains, very cold (10 degrees celcius) but very nice! There was still some snow on the highest peaks. And on the beach we had tempratures between 25 to 34 degrees celcius.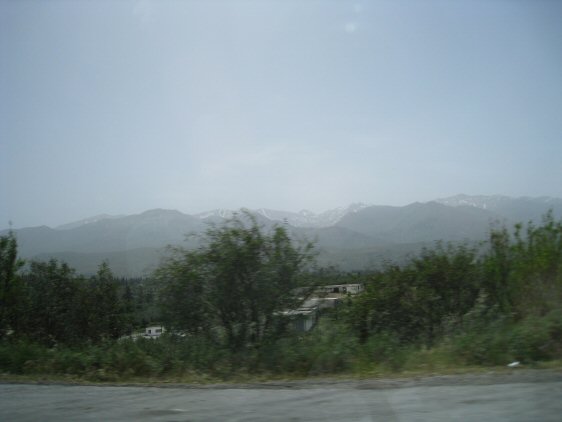 On Saturday we already had to fly back, with only 13 people in the plane so we could do a nice short sleep.
---
South Africa 2 - 24 November 2008:
We wanted to go on safari, so South Africa it would be, we booked the trip at www.djoser.nl. On sunday we took off from Amsterdam to Frankfurt, 3 hour wait at Frankfurt and then to Cape Town (10h), we took the flight with www.lufthansa.com. The flight went quite well, so we had a few days in Cape Town, there we went to Waterfront. We also went to the Table Moutain top by elevator and down by foot, 3 days of muscle pain... After that the round trip started first we went to Cape of Good Hope.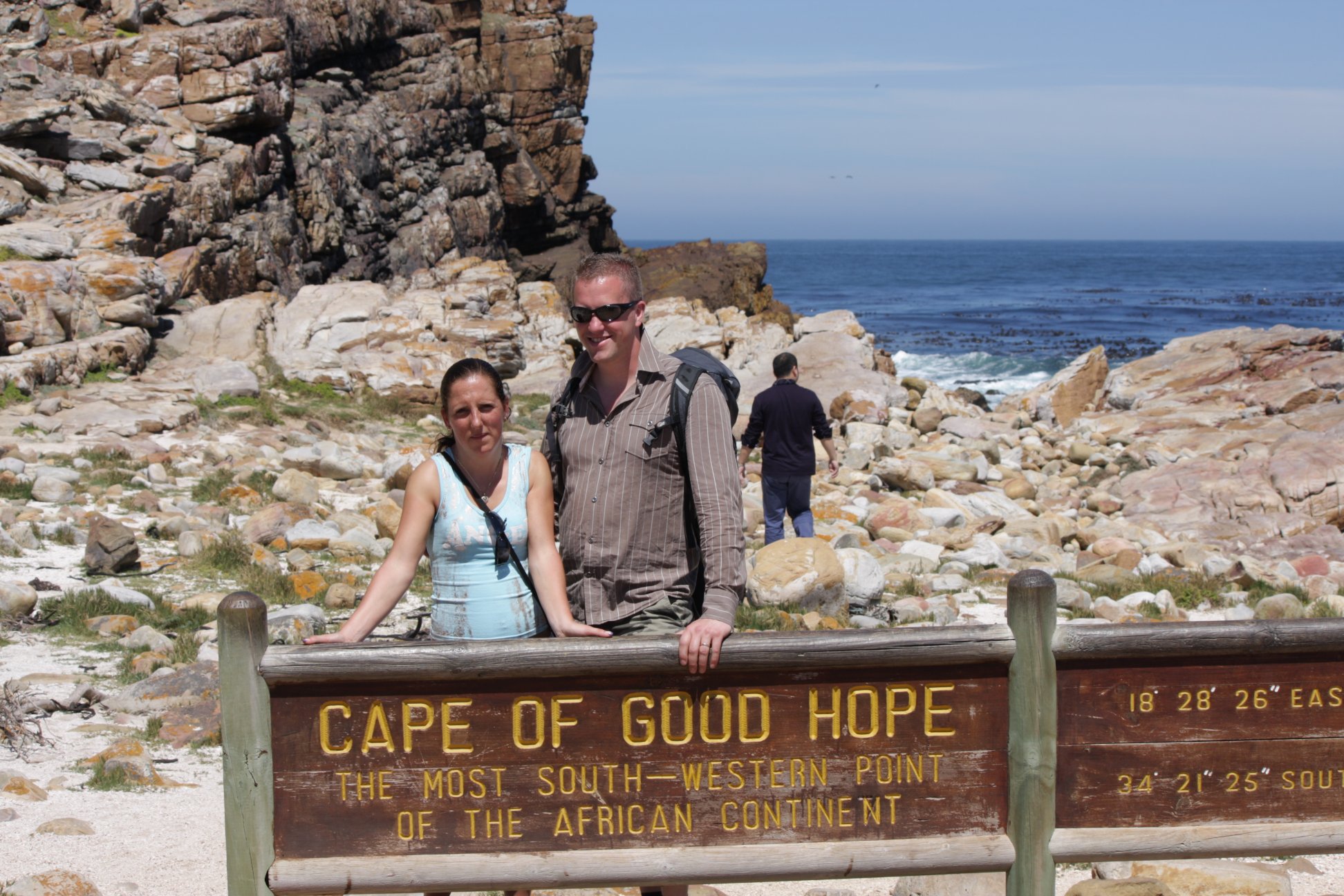 We went whale spotting but we couldn't find them due the season. Dolfins and sea lions we did see.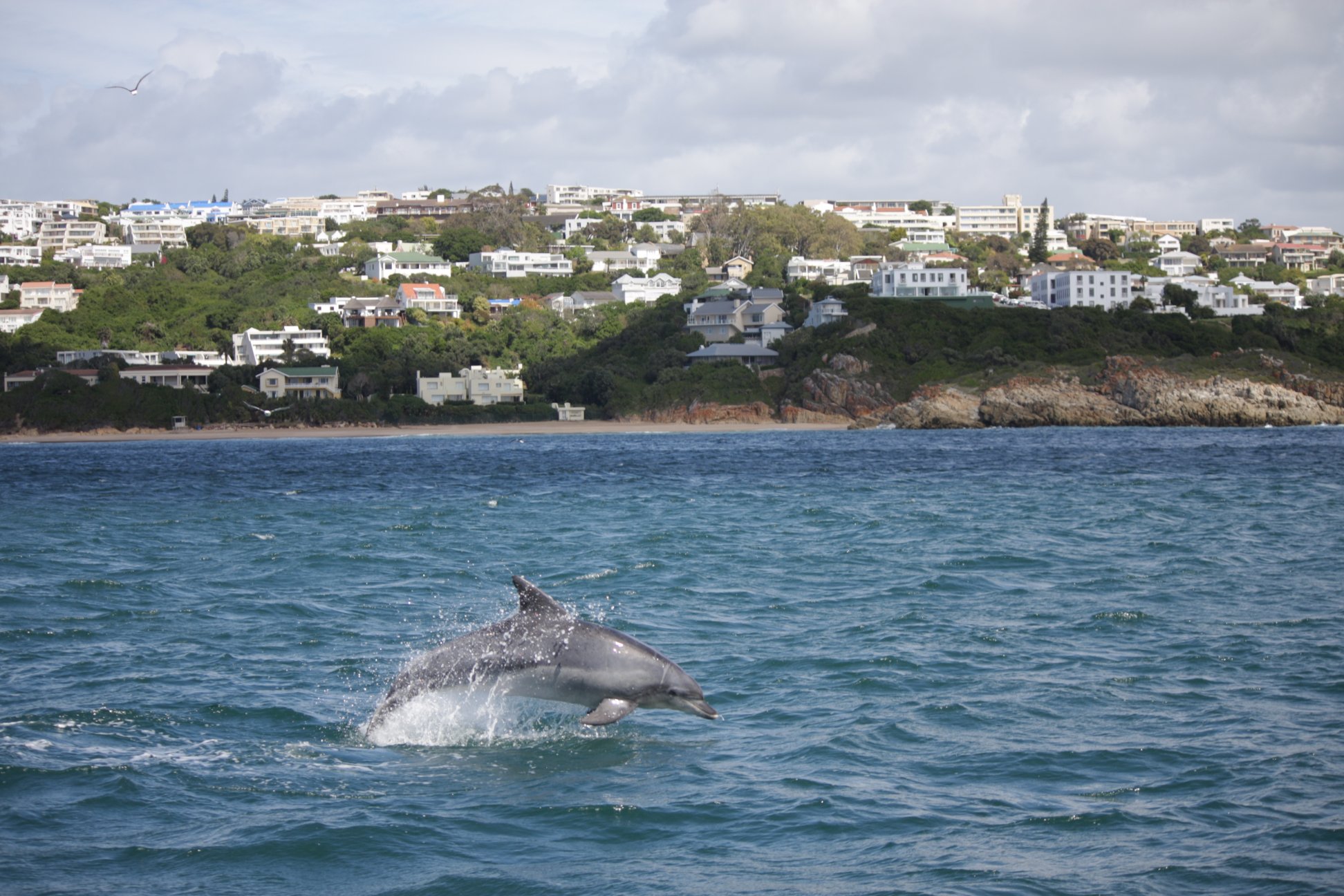 Next we went to Oudtshoorn/Graaff Reinet.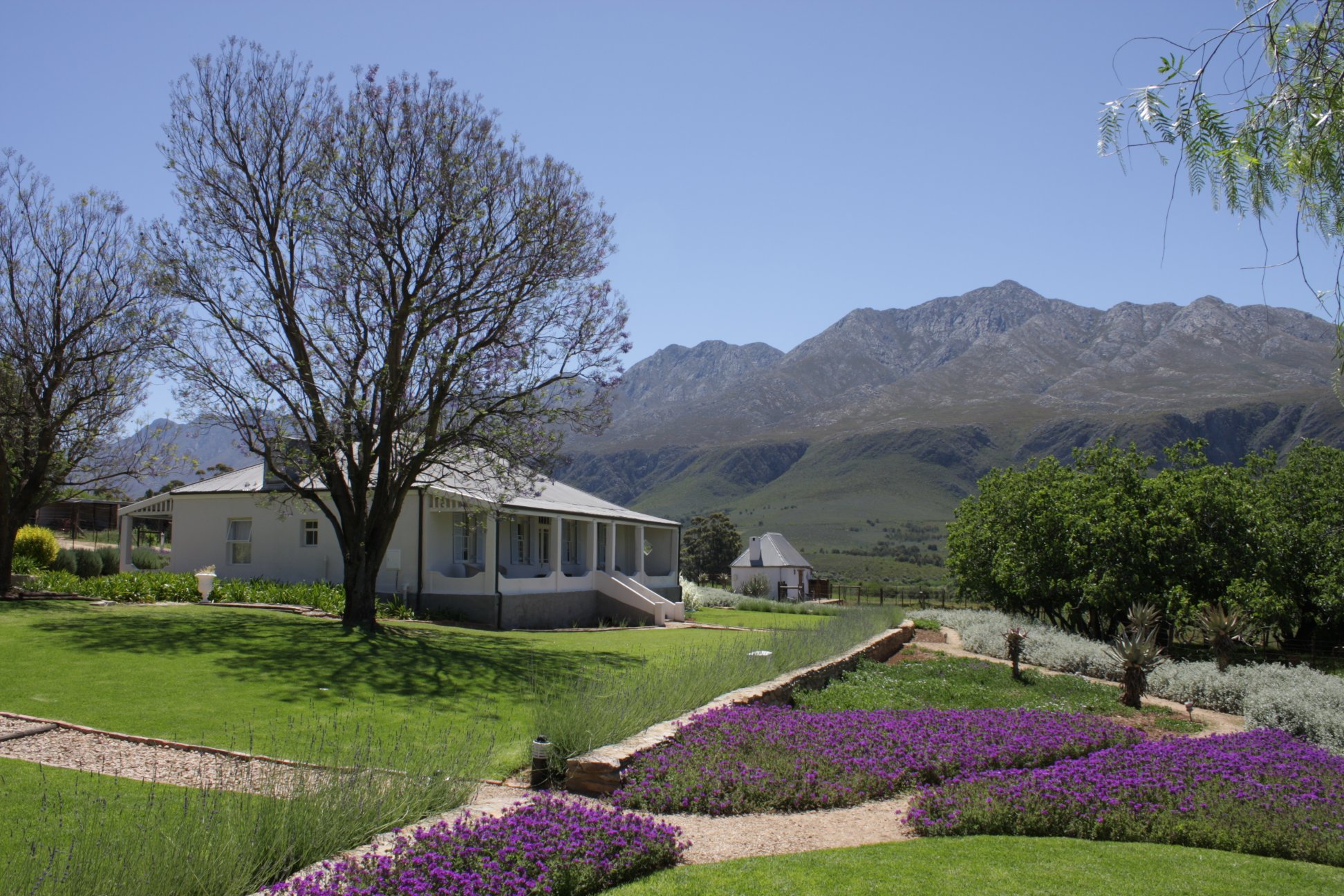 There we went on wine tasting, visit caves, went up in the moutains, etc. etc. Below is a group picture.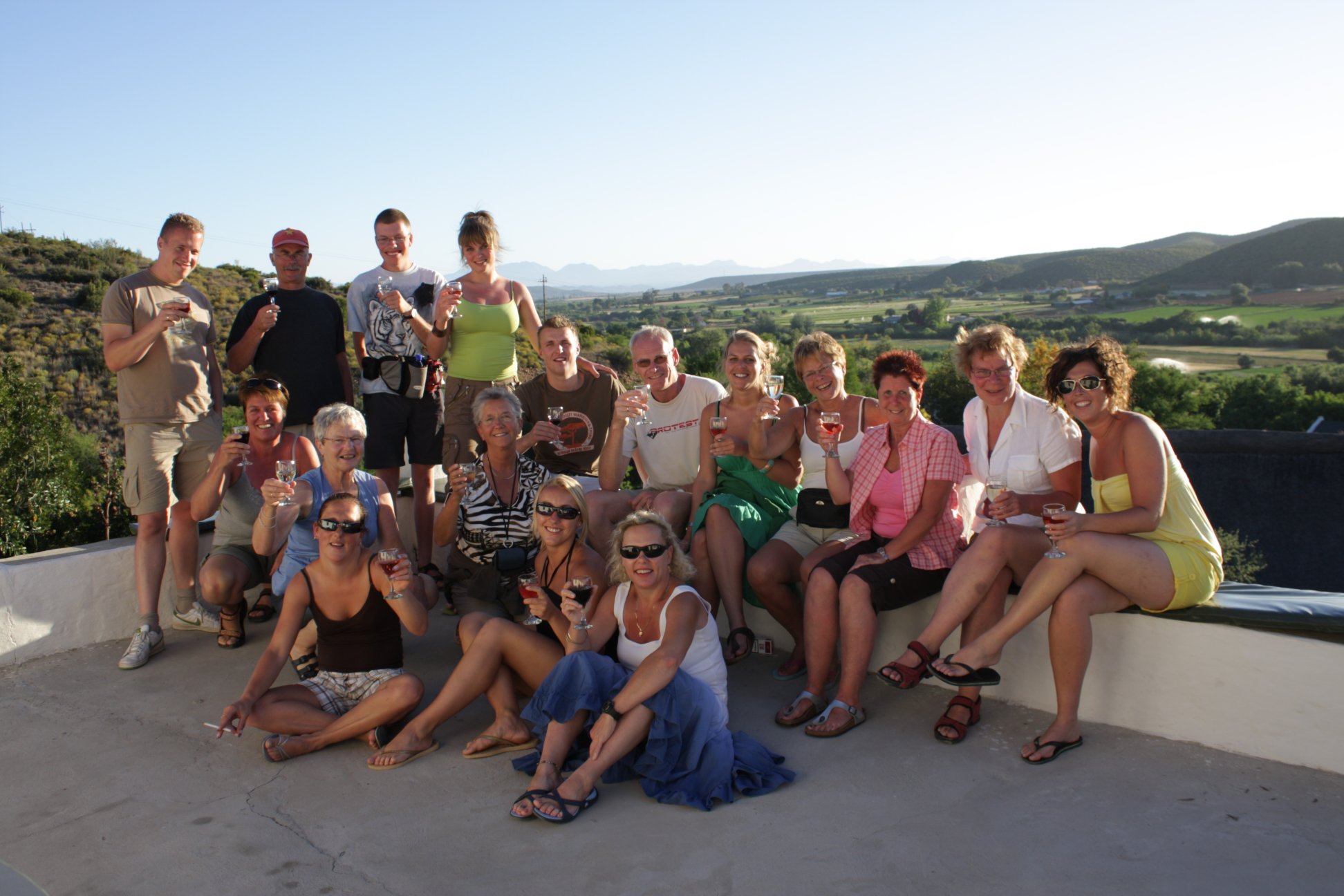 After that we visited Leshoto and we experienced what looked to us as real Africa. A picture of some kids in a village, you were not allowed to give them money, only showing the taken picture was ok for them.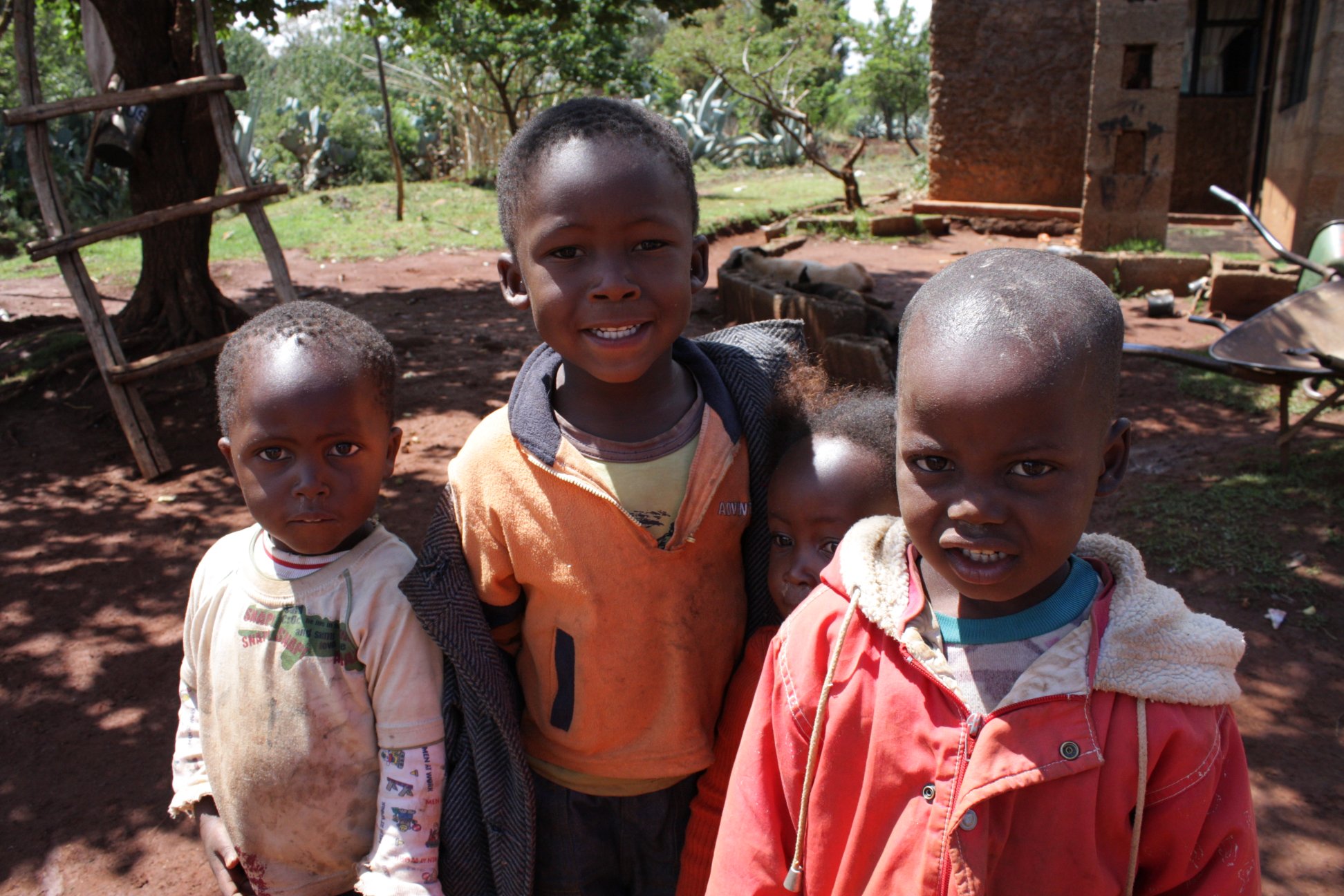 In Royal Nathal NP we experienced our first safari, there we spotted some lions/cheetas/giraffes/rhino/elephant and lots of bokkies. This park was nicer then Kruger. Which we visited after this park. In the last 10 minutes of the night safari we saw the lepard, so we completely saw the big five.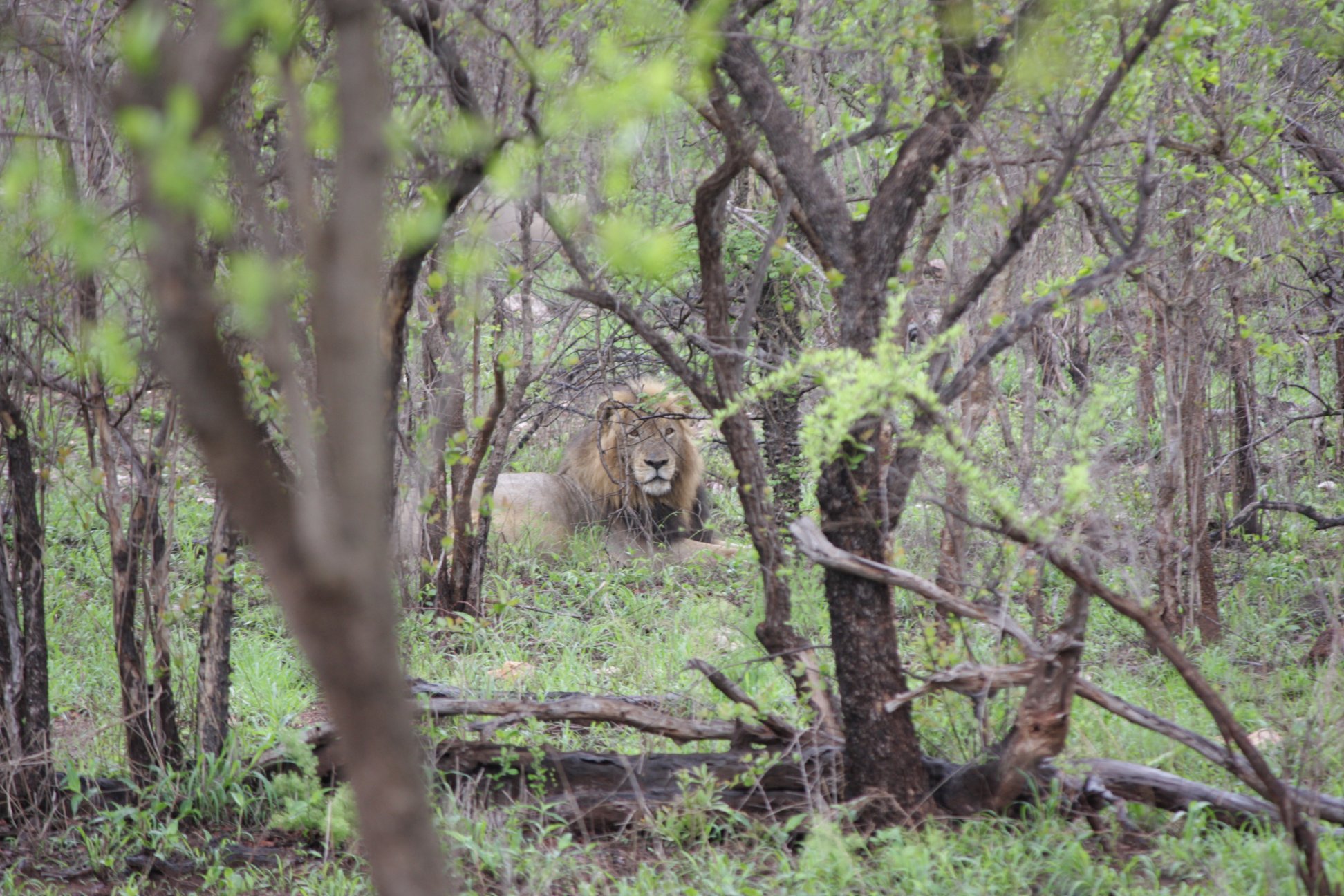 We slept sometimes in very nice hotels, but also in things like this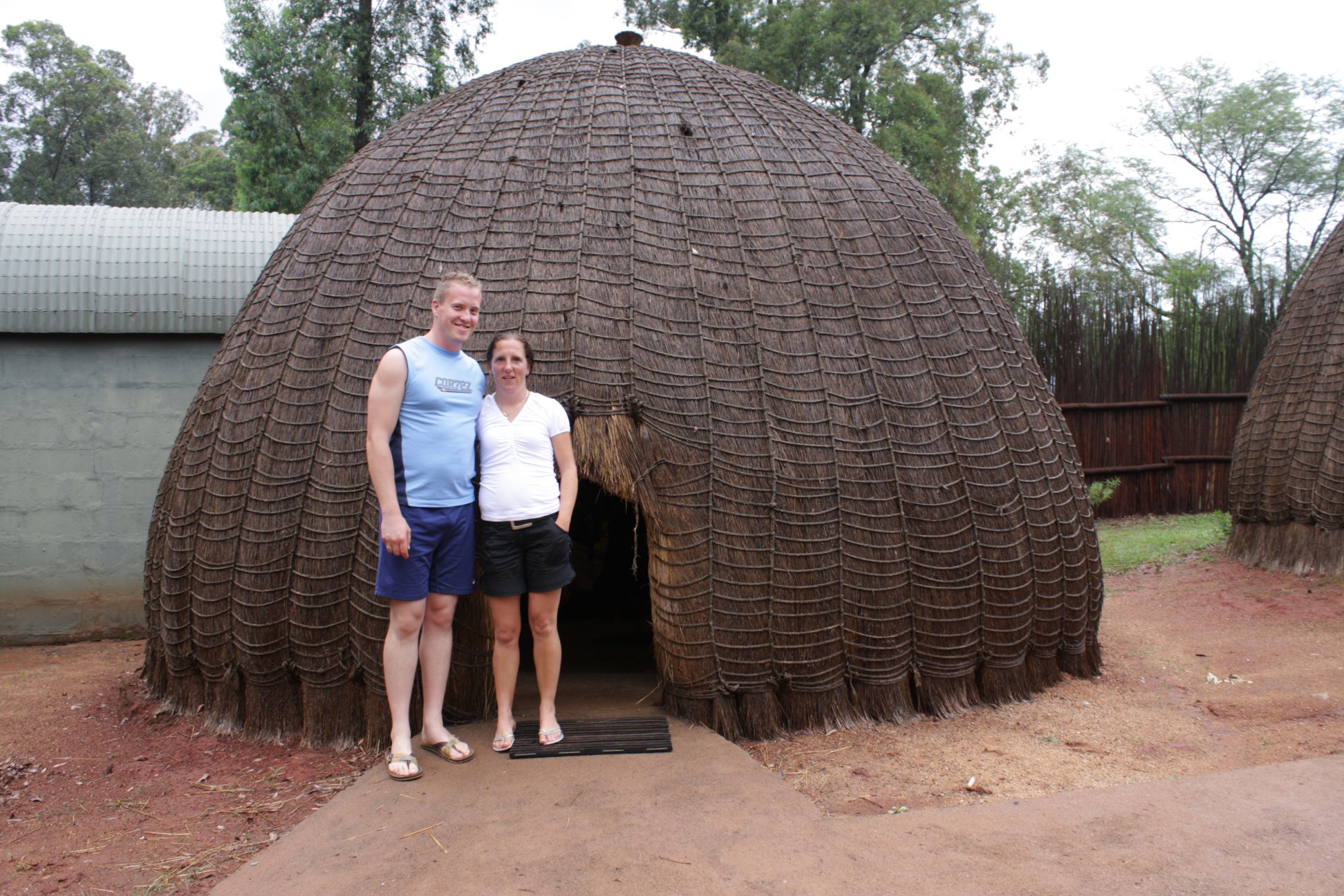 To give a short round up, it was a nice holiday with a lot of things to see/visit/do, nice mixed group, but long travelling days, sometimes from 7:00 - 17:00, but that's what you have which such a trip. We went back from Johannesburg to Frankfurt, to Amsterdam.
---